Whether you're using them for lead collection, a means of contact, or registration pages, forms are an important part of your site. They help you manage leads and visitors more effectively, and – when done right – help to create incredible user experiences.
So, the question you should be asking is: What's the best form plugin for WordPress? We've crawled through the list of over 9,000 plugins that appear when you type "form" into the WordPress plugin directory, to bring you 5 of the best.
You could just opt for the first one you see, but then you'll probably miss out on some of the functionality and flexibility that come with alternatives. The plugins you'll find below have been judged based on their effectiveness, user-friendliness, and ability to create a great looking form.
A powerful form plugin with a free version available for those who don't need added features. Overall, a great form builder with a powerful interface, but the price starts to rise once you need access to its premium extensions.
Pros
One of the biggest advantages of Ninja Forms is that its free version is already incredibly well equipped to manage most form builds. Under the hood you'll find integration capabilities, field control, and a translation service. Moreover, being free, you can download and install Ninja Forms on as many sites as you want.
If you're looking for added functionality, Ninja Forms has established itself as a leading provider of form extensions. You can purchase modules for Salesforce integration, SMS notifications, and a campaign monitor.
Another advantage of Ninja Forms is its community. There to help and guide new users, it's also comprised of a large number of devs who can help you to create custom functions easily.
Cons
Ninja Forms is a great plugin for versatility and, in general, is very easy to use. However, once you start working with action hooks and filters, the form builder can become very complicated.
Moreover, if you're looking for specialist features such as Salesforce integration, you're going to have to pay for it. But this is true with almost any form builder.
Another powerful form builder with some great functionality included for free. By far one of the most popular form plugins for WordPress, but also with additional fees if you require more.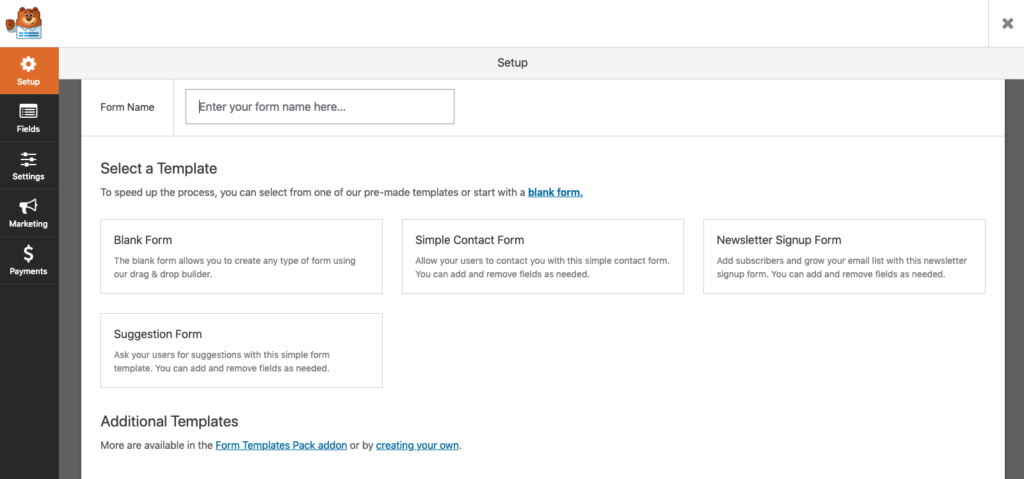 Pros
You would be forgiven for thinking that WP Forms is the official form building plugin for WordPress – the name, the quality, and its simplicity. But it's not. It's just a really easy to use and well made form builder.
The free version is powerful and will suit most user's needs, with paid extensions available for those who want to do more. Once you've installed the plugin, you'll find geolocation functionality, form abandonment, conditional logic rules, the ability to connect the form for user-submitted content, login and user registration, and more.
WP Forms also come with the Surveys and polls add-on. We've found this to be an incredibly powerful and versatile add-on that allows you to easily generate interactive surveys and generate real-time reports. Highly recommended.
Cons
The main idea behind WP Forms is that it's user friendly. To do that, it sacrifices some of the more complex form building features you'll find in the other options listed.
Moreover, as far as free versions go, WP Forms' free offering is powerful but lacks some of the versatility you'll find in competitors like Ninja Forms.
A form plugin designed to make creating forms as easy as possible with a drag and drop interface and some advanced functionality.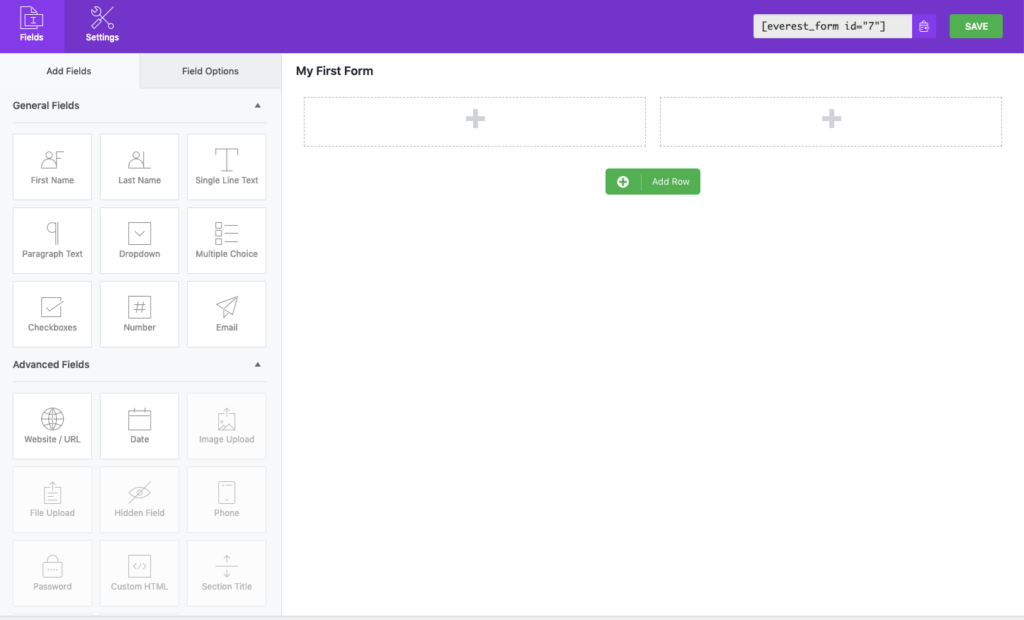 Pros
This might just be the simplest form builder for WordPress. Everest forms allows you to create forms by dragging and dropping the elements you want, where you want. This makes the form creation process easy. Inside the form builder, you'll find support for multiple columns, spam protection, multiple email recipients, and a huge array of possible form fields.
Everest forms also allows you to insert forms into your pages and posts by using shortcode – making page creation a lot simpler.
Everest comes with several form design templates to choose from, so you don't have to start from nothing. You can also view form entries directly from your dashboard, instead of having to open the plugin every time.
Cons
Its drag and drop functionality makes Everest one of our favorite form builders for beginners looking for simplicity. However, that simplicity comes with the sacrifice of flexibility. There are some features you won't be able to implement with Everest that you would with some of the alternatives on this list. Great for small and medium sized sites, but maybe not the right tool for bigger ones.
What Is the Best WordPress Form Plugin?
If you're looking for the best free form plugin for WordPress, then we highly recommend either WP Forms or Ninja forms. Both of these offer powerful free versions that provide great form building options. Contact Form 7 is also a good option, but doesn't quite make it into the our top pick due to not having a great UI.
If you're looking for something easy to use, then we would recommend Everest Forms. The UI is great and the drag and drop interface makes building any form simple.